Introducing the Dokido board
Whether you are a board riding sports player or board riding lover, you would want to ride on the Dokido board. You will have fun while riding and at the same time, strengthen your core muscles and stimulating the nervous system as you try shifting your weight to sway on the board.
Dokido is a long shaped board with one rear wheel. Usually, when riding on boards, we ride with our pushing on the ground. With a Dokido, you won't have to do any of that. All you are supposed to do is sway on the board, forward, and back continuously. You have to use the same weight shifting method as in golf, baseball to successfully ride this a Dokido.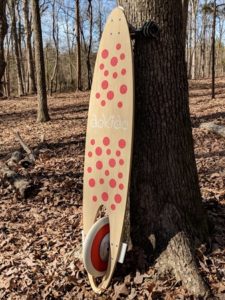 What makes the Dokido different from other longboards and skateboards?
The uniqueness of the Dokido board is in the way you ride it. While it might look so difficult to step on a skateboard, especially for beginners, the Dokido makes the most significant difference since you don't have to step off the ground when you ride it.
Dokido helps solve the problem with the skateboards using its Saucerang system located at the rear wheel. Therefore, it makes the board more stable, minimizes the risk of injuries, and transmits the sway of the rider to the driving force. Anyone, including children, can ride the Dokido.
The Dokido difference
When riding the board, your foot doesn't have to touch the ground. Instead, you are required to shift your weight back and front in a swaying motion.
You can climb uphill in the same manner
The Dokido can be carried around like a wheeled carry-on luggage
Great for
Both indoor and outdoor riding
fun while working out
Saving money
Both pros and beginners
Improving balance
Alternative sport
Commuting
Benefits of a Dokido
Gentle on the joints
Fun while working out
saves time as it's a smarter way of working out
Cost-effective compared to other workouts
You can use it in both outdoor,and indoor settings in case of bad weather.
Efficient and robust weight shifting design
Who is Dokido Great for?
Dokido can be a source of great fun and entertainment. At the same time, you can use it to commute to work and also for a workout. Both children and adults can use the board.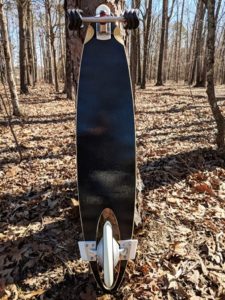 Even without experience in skateboarding, you can still ride the Dokido board with ease by shifting your weight from left to right in a swaying motion. Because of the unique way of movement involved, everyone can use it for exercising, including athletes looking for a unique way of working out.
Dokido offers you a great way to exercise while having fun riding it. Forget other skateboards, Dokido is here to help you strengthen your core muscles and stimulate your nervous system. It's great for beginners and all ages, so you don't have to worry about having to push your foot off the ground when riding it. Dokido riding involves making unique, swaying movements. Get one today to experience all the fun.